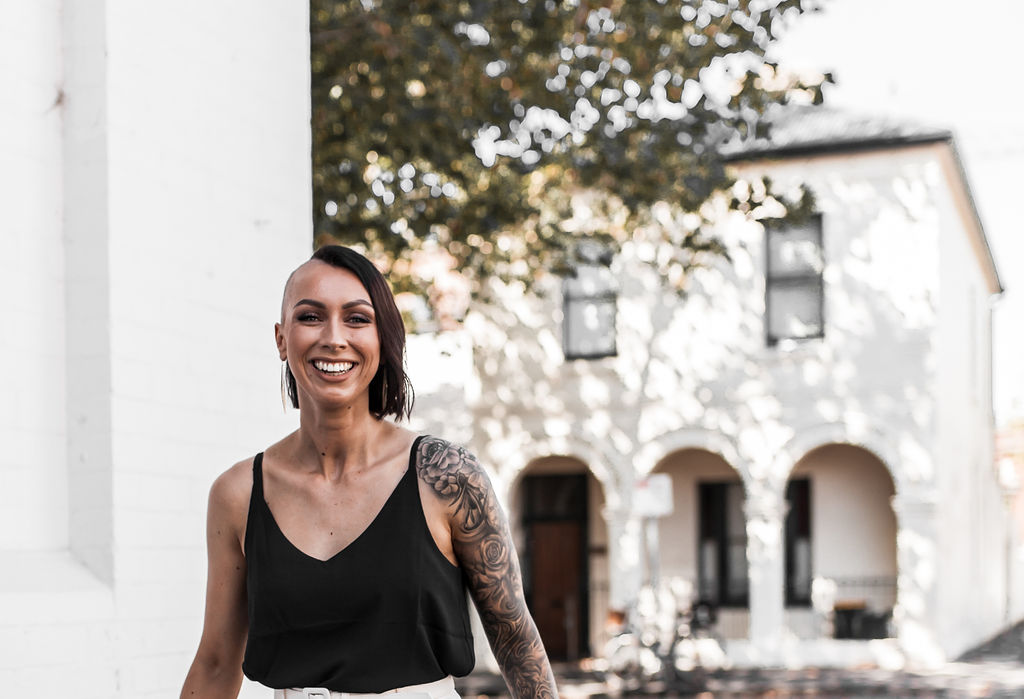 Hey I'm Taylor and I built a six figure business in six months by blending spirituality with strategy.
Yes, you read that right.
Six figures in six months, but not just by hustling my butt off.
And not just by sitting there saying mantras and hoping it would find its way to me either.
Instead, I created a fusion of both and the results pretty much speak for themselves.
When I blended the woo with the work, my desires manifested faster than I ever thought possible, and I'm here to teach other boss babes how to do the exact same thing.
But trust me when I say it wasn't always like this.
I started off where most of us do.
Graduating University with Honours for my Business degree, and "making it" in the corporate world.
I had a good job, I was climbing ranks like you wouldn't believe, and I was dying inside.
Every single day I would find myself riddled with anxiety at the fact that "this was it".
Going home in tears every day feeling so unsatisfied with the way my life was playing out.
Taking breaks during the day to go to the bathroom and try to talk myself out of feeling like there had to be more than this.
Constantly knowing that I was here for a bigger impact and a more abundant life, and knowing I couldn't keep going this way.
The voice wouldn't go away and I knew it was showing up for a reason.
So I decided to listen to it.
I quit my corporate job and started my first business, which right out the gate did well.
But here's the thing - I was the girl that came from a masculine, corporate world and believed that in order to be successful I basically had to pop my name down for #teamnosleep and hustle 'til I died.
I believed that running a successful business had to be difficult and that if it felt easy, I wasn't doing enough.
I believed it was all about action, forcing, and never stopping for a moment - constantly grinding towards my goals and when I'd hit them, immediately moving onto another.
Safe to say that a breakdown at 25 wasn't really a surprise to anyone.
Working 70+ hour weeks, killing myself for this idea of 'success' and never pausing long enough to appreciate any of it - I worked myself right into burnout.
I ended up in hospital after breaking physically, mentally and emotionally, and in the process destroying everything I had worked towards.
My business was gone, I was totally broke and I didn't know what my purpose was anymore.
And while this felt like one of the hardest points in my life, it's what I am truly most grateful for.
Because in going through this, I actually paused long enough to finally hear my own intuition.
I stopped hustling, grinding and forcing, and opened myself up to hearing the message I'd needed to hear all along.
"This is all happening for you, not to you."
And as soon as I realised that, everything changed.
It was like I had unlocked this hidden secret that had been there all along.
I leant into that fully, and the more I leant into it, the more appeared in front of me that supported me every step of the way.
Podcasts were suggested to me, books were given to me, signs started to appear, and I realised what I had been missing all along.
Strategy alone wasn't enough, it was the spirituality side of things that was missing.
I spent every spare moment from then on, learning everything I could about manifestation, how to work with the Universe instead of against it, how to take aligned action, Universal Laws, how to bring spirituality into everything I did, the power of affirmations, journaling, visualisation and everything else in between that I knew would help me call in everything I so desired.
I blended everything I was learning with the business strategy I already knew and the results were almost instant.
Suddenly creating my dream life became easier than ever, and things I had been trying to force for so long began manifesting left, right and centre.
And it all came from blending the ACTION with the ENERGY.
By aligning myself with it energetically and then taking massive action that supported it fully.
By realising that strategy alone won't get you where you want to go, but when you blend spirituality with it - you step into a whole new power.
IN JUST 12 months, I manifested:
A business that rapidly grew into a six figure company, and is now on track for a multiple six-figure year.
A top rated podcast that reached the top 10 in Australia for Entrepreneurship and recently crossed over 100,000 downloads.
Sold out group coaching courses and aligned soulmate clients that line up to work with me so that I can help them call in the lives they so deserve.
My dream apartment in the heart of Melbourne City in Australia.
The next level in my relationship with my soulmate partner and lover of five years, as we build our dream life together and constantly manifest more of our goals as a couple.
An incredible tribe of high vibe women, supported by friendships with babes who inspire me on the daily.
A total freedom life working from wherever I want, being able to show up and serve thousands of women that I am so blessed to reach every day, from wherever I feel called to be.
The freedom, impact and abundance I always desired.
Which is why it's now so important to me, to teach this to other female entrepreneurs so that they can have the massive impact and call in the money they are here for too.
To show them it's not one or the other when it comes to action and energy work - it's both.
To teach them how to step into their power fully, to release limiting beliefs and to show up for those that truly need them.
To share the steps that call in massive abundance and see boss babes everywhere being compensated for the light they bring to the world.
To help women everywhere to realise their voice is so needed, and to help them share it in a way that calls in the freedom, impact and abundance they are so worthy of.
Trust me babe - if I can do it, you can too.
If you're feeling called to work with me babe, trust me when I tell you it is for a reason.
Every time I have answered that calling in my own life - I have upleveled MASSIVELY and called in far more than I ever expected, and I know that us working together will do the exact same for you.
If you're ready to do this, book a FREE Clarity Call now.
These calls are reserved for babes who are serious about calling in the freedom, impact and abundance they know is waiting for them, and that are ready to start taking the aligned action steps they need to right now.